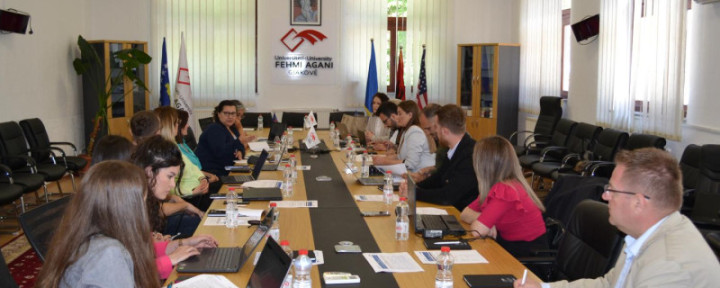 SUSWELL Project holds full consortium meeting at University "Fehmi Agani" Gjakova
The SUSWELL project consortium in, currently underway at the University "Fehmi Agani" Gjakovë, is making significant progress towards its goals. In a full consortium meeting at Gjakova University, project members gathered to discuss various aspects of the project and plan for the future.
The meeting began with a warm welcome and an opportunity for participants to refresh their understanding of the project's objectives. Re-engaging with SUSWELL 2.0, the consortium members provided updates on the project's current status and shared their reflections on the progress made so far. Excitement filled the room as participants discussed new possibilities and potential future outcomes.
Following the productive discussions, a coffee break provided an opportunity for informal networking and rejuvenation before delving into the core agenda. The consortium then focused on reviewing the project's results and planning the upcoming milestones. The session was followed by a bridging Gate 1 which was a significant topic of discussion during the meeting. The consortium members dedicated time to prepare and align themselves in the Communities of Practice (COP) in Gjakova and Pristina.
After another coffee break, the consortium moved forward with the agenda by preparing to go through Gate 2. The participants engaged in reflexing towards the onboarding of new partners, specifically focusing on Work Package 5.8. This session aimed to ensure a smooth integration of new partners into the project.