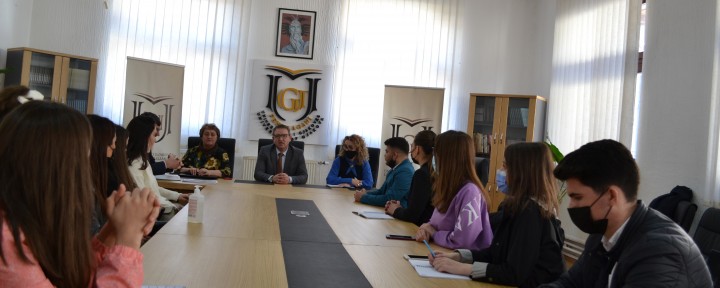 Tutor students at "Fehmi Agani" University are selected
Rector of the University "Fehmi Agani" in Gjakova, Prof. Ass. Dr. Artan Nimani and the Board of the Didactic Center for Teaching Excellence (QDPM), headed by Prof. Ass. Dr. Drita Kadriu met the tutoring students.
Rector Nimani thanked the students who have expressed readiness to become part of the UFAGJ tutorial system and congratulated them on their achievements, offering them full cooperation in performing their duties.
Head of the Didactic Center for Teaching Excellence (DCTE), Prof. Ass. Dr. Drita Kadriu said that this is an important day for the university, by functionalizing the student tutoring system, which through this aims to increase the level of passing, and explained the role and importance of tutoring students.
At this meeting, the tutors were informed about the schedule and the tasks they will perform, and the coordinator of the tutors was selected.
The tutoring students at Fehmi Agani University aim to assist students in their academic difficulties by representing them and displaying their requests and suggestions for improvement and helping them with academic setbacks.
List of student tutors selected for UFAGJ academic units:
1. Nursing tutors: Fatlinda Hoxhaj; 2. Internal diseases: Festina Morina; 3. Language and communication: Luanda Musa; 4. English language: Valeria Kola and Erëza Mulaj; 5. Mathematics: Albulena Mataj and Blenda Buza; 6. Clinical practice: Vlora Frrokaj, Fabian Thaqi and Donart Koci.
The importance of tutoring students is very high because these tutoring students make the empowerment of the triangle: student-professor-management or administration. Also, the importance of the student tutorial system is to make changes for the benefit of the university and for the benefit of the students.