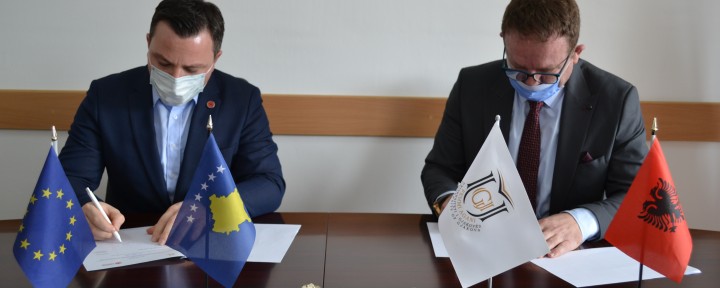 Rector Nimani signed a memorandum of understanding with Caritas Kosova
Rector of the University "Fehmi Agani" in Gjakova, Prof. Ass. Dr. Artan Nimani and Alfred Pjetri, Executive Director of Caritas Kosovo have signed a memorandum of understanding in order to provide joint services in the interest of preparing and advising university students for the labor market, within the PRAXIS project.
Through this agreement, the University "Fehmi Agani" in Gjakova will provide professional support, logistics-infrastructure, for the organization of activities foreseen in various projects, which enable the professional preparation of students, and will promote the projects and opportunities offered by Caritas Kosovo for young people.
Rector Nimani stressed the role and importance of cooperation between the university and Caritas Kosova. During the meeting, he also discussed the management of the Covid-19 pandemic situation, in which the university has created favorable conditions for staff and students.
UFAGJ and Caritas Kosovo will be committed to implementing this memorandum of understanding in full coordination with each other.