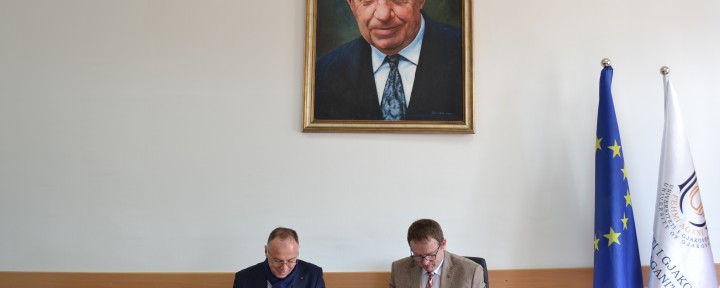 UFAGJ signs memorandum of understanding with Post of Kosovo
Rector, Prof. Ass. Dr. Artan Nimani accompanied by the Vice Rector, Prof. Ass. Dr. Laura Naka signed a memorandum of understanding with the Post of Kosovo, represented by Mr. Arben Rogova, Mrs. Edonjeta Asllani Lata and Mr. Valmir Agaj.
During the meeting, Rector Nimani informed the officials of the Post of Kosovo about the achievements of the UFAGJ, about the processes and thanked them for providing the possibility of a memorandum of understanding.
Mr. Rogova congratulated Rector Nimani for the achievements and tiredless work he is doing for the benefit of the UFAGJ, thanking him for the reception and cooperation.
The agreement provides for the provision of the needs of the UFAGJ, general postal services, the opening of the post office within the university, the display of postage stamps according to the requirements of the university, which promotes the cultural, artistic and historical development of society, providing the opportunity to perform internship for UFAGJ students, as well as setting up postal box.
The parties agreed to cooperate and coordinate activities for the implementation and supervision of this Memorandum of Understanding.