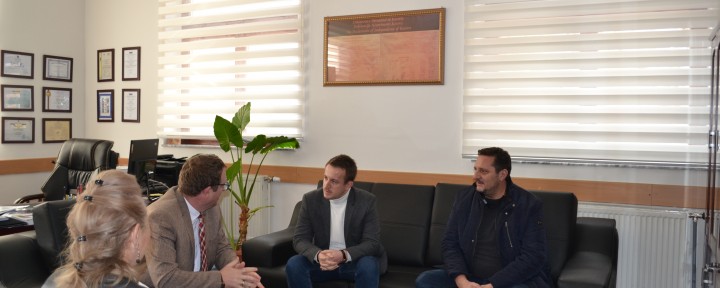 Rector Nimani receives CEC officials
Rector of the University "Fehmi Agani" in Gjakova, Prof. Ass. Dr. Artan Nimani, together with Prof. Ass. Dr. Laura Naka, Vice Rector for Academic Development and Quality Enhancement received the meeting the Senior Municipal Election Officer, Mr. Armir Rexhaj and Mr. Ardian Malokun, trainer of KVVs.
Rector Nimani congratulated the CEC representatives in Gjakova for their tiredless work and offered them all the support required for the best possible electoral process.
The CEC representatives in Gjakova thanked Rector Nimani for the reception and support in providing the infrastructural conditions for holding trainings in the UFAGJ premises.
Rector Nimani demanded that during the trainings on the university premises, the recommended measures for the prevention of the Covid-19 pandemic to be respected.
The UFAGJ remains the institution is committed to community service in general.