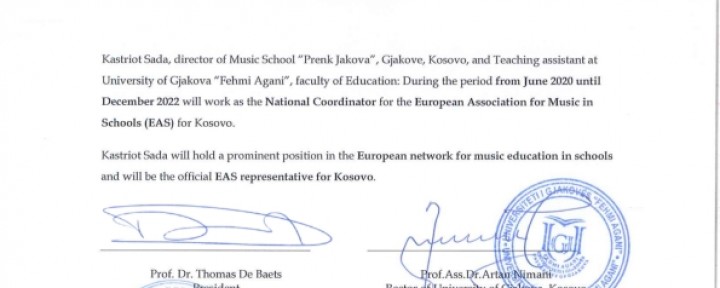 Professor Kastriot Sada continues the position of National Coordinator of Kosovo in the European Association for Music in Schools (EAS / European Association for Music in Schools), until 2022
MSc. Kastriot Sada, part of the academic staff at the Faculty of Education of the University "Fehmi Agani" in Gjakova holds this position since 2015, which was voted unanimously by all coordinators of European participating countries in Rostock, Germany.
It is also worth noting that in 2010, MSc. Kastriot Sada has been selected by the University of Prishtina, Faculty of Music, to represent Kosovo in the student forum.
The European School Music Association is a network of music education, representing 35 European countries. It unites all those involved in music education, to exchange knowledge and experience in professional fields and to protect a high quality music education, accessible to all.
The purpose of this association is to promote music education within Europe.
The XXVIII EAS Conference, which will be organized by the Faculty of Education and the University of Music in Freiburg, Germany, with the theme "Music is what people do", is held on March 24-27, 2021. MSc Kastriot Sada in the capacity of National Coordinator, I will also present the paper entitled "Effects of Do, mobile, on the development of singing ability, with the use of phonemic signs".