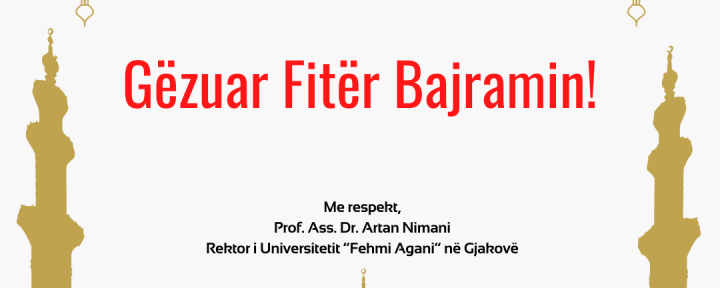 Dear students,
Honored staff of the University "Fehmi Agani" in Gjakova,
Dear citizens of the Islamic faith, On the occasion of the end of the month of Ramadan, the month of dedication and sacrifice, let me convey to you the most sincere wishes for the Feast of Eid Mubarak!
I wish this holiday to bring peace, and God's blessing to all, as a reward for sacrifice and prayer throughout the glorious month of Ramadan.
Let Eid Mubarak serve us as a moment of our awareness to respect the dignity and general human values! I wish you from the bottom of my heart goodness and prosperity and may God accept your fasting and prayers! Happy Eid Mubarak !
With respect, Prof. Ass. Dr. Artan Nimani Rector of the University "Fehmi Agani" in Gjakova