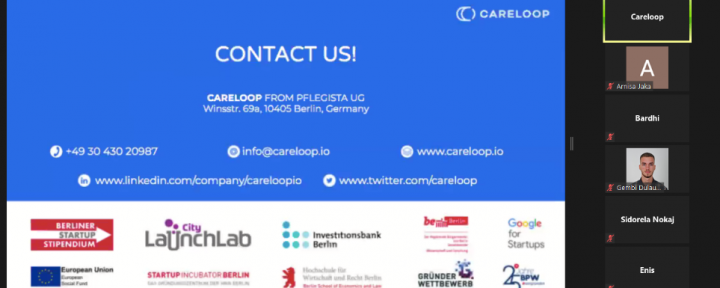 The informative meeting of the students of the Faculty of Medicine with Careloop was held
On the Wednesday, 25th of the February, 2021, Careloop informative meeting was held with the students of the Faculty of Medicine of the University "Fehmi Agani" in Gjakova. The purpose of this meeting was to inform Careloop about the services they provide to our students. At the meeting from Careloop were Matea Ivić and Laura Schäfer, while from the University "Fehmi Agani" as a representative was Arnisa Jaka (Representative of the NGO ALUMNI I UGJFA) and students from the Faculty of Medicine.
The opening of the virtual meeting was made by Matea Ivić who in summary points described the Careloop platform which enables students who are on the verge of graduation and those who have graduated to register on the platform, thus serving as a strong facilitator and adequate for their employment.
Participants from Fehmi Agani University thanked Matean for the opportunity being offered to students to enter the job market.