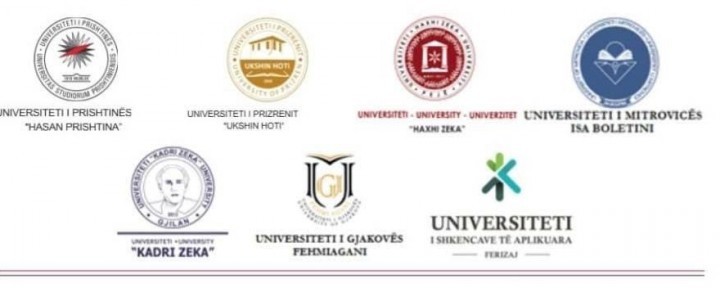 THE ACCREDITATION PROCESS OF PUBLIC UNIVERSITIES UNDER THE COVID-19 PANDEMIC
On the 24th of April, 2020, a virtual meeting was held between the Conference of Rectors of Public Universities of Kosovo and the Kosovo Accreditation Agency. The meeting was attended by rectors Prof. Dr. Fadil Millaku, chairman of KR, Prof. Dr. Marjan Demaj, Prof. Assoc. Bajram Kosumi, Prof. Dr. Ismet Temaj, Prof. Dr. Alush Musaj, Prof. Dr. Agron Bajraktari and Prof. Ass. Artan Nimani, as well as the Chairman of the SCQ Prof. Dr. Gazmend Luboteni and the director of KAA Mr. Naim Gashi. The meeting discussed the accreditation process of HEI in conditions of Pandemic with Covid 19.
The whole meeting was held in the spirit of increasing cooperation between public universities, SCQ and KAA. All participants in this meeting agreed that good and correct cooperation between KAA, SCQ and Public Universities is in the interest of continuous quality improvement and in general the advancement of education in our country.
Mr. G. Luboteni as Chairman of the SCQ and Mr. N. Gashi, director of KAA informed the Rectors about the activities undertaken by the SCQ and KAA in the situation imposed due to the Covid 19 pandemic, in view of the smooth running of the accreditation process, which can be done remotely through online platforms.
Rectors of public universities announced Mr. Ljuboten and Mr. Gashi regarding the preparations of these institutions for the accreditation and evaluation process to be done by international experts and KAA. Everyone agreed to organize a complete, in-depth and correct accreditation process this year.
All agreed that the cooperation between all institutions of higher education creates a favorable climate for quality in education. It was also said that the continuation of the online learning process in all public universities proves that these universities have potential and quality in the teaching and research process.
It was also discussed that everyone should be committed to raising the image of Higher Education Institutions, the Kosovo Accreditation Agency and the State Quality Council, in order for the KAA to return to the European institutions for quality assurance, in ENQA and EQAR.